A Vision for Our

Waterfront

Community

Future
Waterfront
What's next for our waterfront
Waterfront Holland was a community engagement initiative between 2018 and 2019 to formulate a vision and framework for the future of Holland's waterfront. Led by the City of Holland and the Holland Board of Public Works, and in partnership with Holland Charter Township, the process took a
comprehensive, inclusive, and transparent approach to gathering public and private input.
Now in 2022, our community is in consideration of what's next in development, including a potential land swap and relocation of Verplank Dock Co. Please see this video from Mayor Bocks for more info.
Our Vision
Holland's waterfront – a distinctive complement to our downtown weaving together water, land and people in a continuous thread of beauty and vibrancy… an adaptable and evolving place that celebrates a harmony of urban and natural uses… a walkable, year-round destination where water views abound, green spaces offer quiet respite and active play, and connected public access to the water is enhanced. This is the character of the waterfront we seek.
The latest news
We are committed to remaining inclusive and transparent. To achieve that goal, all new information on where we are and what opportunities are coming next can be found here or on our  Facebook Page.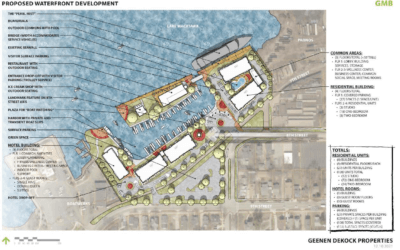 In the RFP process for identifying a developer to advance the Waterfront Holland vision, the City received one proposal, from Geenen DeKock Properties, LLC ("GDK") a Holland-based real estate developer, investor and property management company, whose past projects include the West 8th Street Development in Downtown Holland.
read more
During Our Community Workshops & Site Tours, We Heard You!
Inclusive to All Residents, Age Groups, Abilities
Outdoor Entertainment, e.g. Concert, Arena
Affordable Housing
with a Park
Waterfront Rooftop Restaurant Venue
Local Performance
Arts Center
Linked Well to Downtown with Bike Paths & Bus Stop
Sculpture Park, Encourage Arts
All Natural.
Keep it that way.
Entertainment
Complex like the
B.O.B. in GR
Do Not Block
the View with
Condos
Science + Industry Museum Park
Bike, Kayak, & Paddleboard Rentals
For Residents, Not
Just Tourists!
Public Access to
the Water
Why Waterfront Holland
With the retiring of the James De Young power plant in 2017 and the recent completion of the Holland Energy Park, our city has the unique opportunity to envision something new for the site. As we move forward, we realize that the potential of this project transcends this site and will impact how our community as a whole is viewed. The goal is to embrace what currently exists on the waterfront, including other local businesses, to create a waterfront environment integrating places to live, work, and play that are distinctly Holland.
From this broader Waterfront Holland framework developed by the community, specific land use and programming scenarios embodying the vision and principles will be generated in a collaborative manner for the JDY site.